Info:
Info:

Welcome to Salsa Kings Cross
| Salsa Kings Cross
Monday's just got soooo much better :)
Next date Monday 15th Nov. '21
Get your first glass for FREE
Streetbeat Salsa presents Salsa Kings Cross at: The Star of Kings, 126 York Way, London N1 0AX (The Star of Kings location)
At Kings Cross Salsa I want to create the very best environment to start or improve your salsa.
This start with the Salsa Rapido method the fastest, most fun way into salsa. With 27 years of experience it's got so much to offer.
find out more at Salsa Rapido method

The evening runs on the Blend format an exciting mix of classes, free-dance and social. It's perfect for hard working people who don't want to be tired of groggy the next day.
More about Blend Format

Doors open at 6pm and we start the 'Welcome' session at 6.20pm
The Welcome session is a 40min mix of meet 'n greet, Q&A and Intro/assessment class that everyone attends at least once.

I'm asking everyone to please let me know you're coming at Reserve a Welcome place
This means it won't get to busy and there's no admin to do on the night. Please think of it as a way onto the VIP list :)

At 7pm we start the Blend until 9.30pm.
Please note that everyone from superstar to absolute beginner must attend the Welcome session.
This is so we can meet and get to know each other. Cliques and elitism are unwelcome.
It also gives me the chance to ensure everyone's up to the Blend section.
It may take absolute beginners a few weeks to get there but I also offer the 1-Day Intensive courses :)
After the Blend you are welcome to stay and dance and socialise and enjoy classic salsa.

Costs:
Welcome only £5
Welcome plus Blend £10
Blend only £10
Cash only Please (no card machine)


Salsa Rapido method
| Salsa Kings Cross
Salsa Rapido
The Fast 'n Fun way into salsa
There's a lot of sexy brand names in the salsa world, so why would you want to pick Salsa Rapido®? Well for me to answer that question is to share a journey that began when I started teaching in 1995 and is still going strong. It's my passion, my pride and my pleasure to talk about Salsa Rapido® and how it has evolved over the years.

One thing that hasn't changed is it's strap line:
"The Fast 'n Fun way into salsa." which is as relevant now as it was in 1995.

Let's start with the 'Fun'
I learnt, very quickly, that in teaching dance people need to have fun. If they don't they don't come back! When people are enjoying themselves they learn faster. I didn't understand the psychology of playfulness when I started teaching but now I do and I weave that into every class.
Fun doesn't mean just entertainment, it also means joy. There is something at the heart of a good dance that produces joy. It's why we keep coming back to dance year after year. Nowadays we talk in terms of brain chemistry and neuroscience but through working on what gives us joy when we dance and striving for more of it, more often, we can become not just better dancers but better at everything in our lives. I'm not suggesting that it's a quest for happy brain juice at the expense of others, quite the opposite. It's proven that the better relationship between dance partners, the more joy is produced. Perhaps that's why partner dancing evolved and persisted?
Putting 'fun' at the center of the Salsa Rapido® method gives us a goal and a test. Content and presentation of a class can be tested against a simple question: Is it producing more joy for the future dancer than an alternative? I ask that question over and over and have found it leading me away from the traditional ways of teaching dance. In fairness most dances and the methods used to teach them, are from a period before psychology and neuroscience.

'Fast' I's in everyone's interest to learn quickly. The faster people learn the faster they're dancing and having fun in clubs and at events. Faster means less classes which costs less to get up to club standard. The instructor benefits through word of mouth recommendations.
Fast also means: 'At the right pace'. Too fast and it's all stress and no fun. Too slow and it's boring! This is perhaps the hardest part of teaching anything in a class, but Salsa Rapido® has the flexibility to cope.

'Way into salsa'
There are many ways into salsa. Most people in Latin America still get taught by a family member at a party. In the USA the studio system dominates and in Europe there are mainly fixed length courses. The UK has more class/club pay as you go salsa nights and of course London can boast the world's longest running and most successful 1-Day Intensive course which uses .... the Salsa Rapido®® method.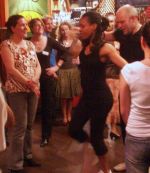 What style do you teach
| Salsa Kings Cross
Salsa Rapido is teaching method not a style of salsa. It's a well developed foundation course that draws from and prepares you for any regional style of salsa. see Salsa Rapido: Regional Styles in Salsa (2019)
Through comparing different elements from various regional styles, you'll have a greater depth of understanding and be able to make informed choices about your style.
Salsa Rapido is there to foster your style and your expression. I hope you'll be informed by, and not confined by, the style of others. Many people mistakenly believe that the regional styles are incompatible. This is totally untrue.

The goal is to be able to dance with anyone from anywhere, easily adapting to their style whilst expressing yourself with confidence, consideration and authenticity.

Salsa Rapido presents the required skills in a way that helps you to quickly achieve a high level of competence regarding style, communication, timing, mechanics etc.
You'll also avoid "bad habits" that will limit you at a higher level.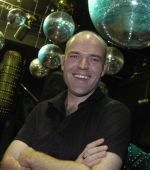 Salsa Instructor Alastair Sadler
| Salsa Kings Cross
Alastair Sadler has been teaching salsa since 1995 and has clocked up over 15,000 classes.
From the start he has developed and refined the progressive teaching method called Salsa Rapido.
Many of his projects have helped define salsa in the UK:
Salsa instructors forum (a workshop where instructors could exchange good teaching practice an ideas).
The One Day Intensive course (The world's first and most successful intensive course, still running weekly)
Salsa university (an all-dayer concept but weekly with five advanced classes in different styles)
In addition to teaching he runs The Streetbeat Salsa Co. and edited the Email Salsa News from 1999 -2007.
Salsa Camden - London's highly successful Rapido & Rueda venue where we ran the UK's first ever weekly Bachata course and in 2018 ran the first Blend format event.
In 2001 he choreographed & performed a solo demo (dancing salsa with a mop and office chair) at congresses and events throughout Europe.
His TV credits as performer and/or choreographer include Baby Father I & II, Casualty, Happiness, Auf Weidersehn Pet and the BBC Ident ( He was the big guy at the front in the white shirt!)
In 2014 he created Mambalsa, the first new partner dance of the 21st century.
Since 2011 he has realised his love of comedy and performed Stand Up at The Edinburgh Fringe festival taking five shows in 2015/16/17.
I still have many new projects to run such as Mambalsa, Salsa Liquida and teacher training courses and a book! So watch this space for another 20+ years :)
It's all been possible through the support of my partner Felicity aka DJ Felicidad.

What is Blend format
| Salsa Kings Cross
Format is a new way of mixing elements of dance class and free dance.
Think of a traditional class/freedance broken into 15min chunks and rearranged.
Sometimes you're learning in a class chunk and sometimes free dancing or taking a well deserved break. It's all done to constant music which gives it energy and pace.
Blend aims to make the evening more dynamic and social where no one has to wait a hour or two for a freestyle dance or to take a break.
It's the perfect way to get a class/dance fix without staying out late.

Blend was developed by myself (Alastair Sadler of The Streetbeat Salsa Co.) for the Mambalsa project and trialled at Salsa Camden in 2018 where three classes worked in confined space to constant music.
It had some unexpected benefits. Beginners became far more connected to the music.
Concentration levels were higher as the chunks were shorter and groups mixed far more readily with less 'them and us' and a greater sense of togetherness.
I've written more about Blend in the Salsa Rapido Blog.